Youth
Time to Get Woke
IN LATE MAY OF 2019, STUDENTS and young professionals from the US tri-state area of New York, New Jersey, and Connecticut joined together at the Shanti Mandir in Walden, NY, for the Hindu Students Council's annual weekend camp. The camp's purpose is to help young Hindus establish a sense of community and learn about their cultural heritage. It delves into vital areas such as key scriptures, karma, dharma, Hindu symbols and yoga.
The theme for this year's camp was "How to Be a Woke Hindu". The aim was to improve attendees' understanding of issues that face both the American Hindu community and the broader global community, with a focus on how young Hindus can use the principles of their religion to create positive change at a community and global level. HSC president Parth Parihar explains, "Part of the problem our community faces is that we lack young, confident ambassadors. HSC is changing that."
After the camp's daily morning yoga sessions, presenters delved into a variety of topics, sparking thought and lively discussion among participants. One presentation discussed the jati-varna system, which is often misrepresented as the "caste system," and explained that caste-based discrimination is not a part of Hindu dharma, even though it is often portrayed as such. Another presentation highlighted examples of how Hinduism is so negatively portrayed in mainstream media. Others looked closely at environmental protection, vegetarianism and pressing social issues.

The camp's structure could serve as a good model for other organizations. The combination of spiritual and religious ideas with discussions of practical issues facing Hindus provided an engaging and uplifting experience for the participants. As Andrew Latchman, a Guyanese American from the University of Maryland, said, "I learned more about not only Hindu faith, but about myself and others and how we implement Santana Dharma in our lives."
SINGAPORE

Many Communities, One Shared Future

SINGAPORE'S LATEST EFFORT towards religious harmony was the 2019 International Conference on Cohesive Societies (ICCS) held in June. Over 250 organizations signed a commitment outlining specific ways in which Singaporeans should interact with one another. The agreement acknowledges sensitivities and compensates for religious differences in all public settings and day-to-day interactions.

At the opening ceremony, Singapore's President Halimah Yacob stated, "A society is fragile if its members view each other in mutual incomprehension. It is vulnerable when its communities live parallel lives and inhabit separate worlds. Only a cohesive society built upon mutual trust can harness the strength of its diversity, so that its people can build a better future."

Christian leaders admitted to the issues posed by unwelcome proselytization. Dr. Mohamed Fatris Bakaram, a Muslim mufti, expressed concern about tendencies towards religious isolation, stating that good Muslims are good citizens who actively participate in their community. "We will tighten up the administrative aspects of ensuring that our preachers, our teachers—and especially foreign speakers invited to speak to their own respective communities in Singapore—(will) understand the unique circumstances that we have been enjoying for many years," said Dr. Fatris.

Although nearly one fifth of Singapore's population identify as holding no religious beliefs, this tiny island is actually the world's most religiously diverse nation. With this commitment and other related initiatives, perhaps this small island can be an example for other nations who face similar challenges in today's intensely connected world.
USA
Separation of Yoga & State?
THE USE OF YOGA IN PUBLIC schools has become widespread throughout the United States. However, this continues to be a point of contention, due to its deep roots as a Hindu religious practice. Many school districts have gone to great lengths to remove Hindu-related content from hatha yoga, such as the use of mantras and Sanskrit names for poses. But for many parents, that is not going far enough.

The principle of separation of church and state bars public schools from teaching Christian practices, so non-Hindu parents ask why a Hindu practice would be allowed. Yoga proponents, meanwhile, point to improvements in student behavior and academic performance.

In one important ruling, a 2013 California court stated that yoga, as commonly taught in public schools, is so far removed from its origins, and so lacking in religious content, that it does not function as a gateway into Eastern religions.
MYSORE
Uncovering Nandis
ELDERS OF THE VILLAGES around the Arasinakere area in Mysore have long been fascinated by seeing the stone horns of Nandi the bull peering out from the nearby lake whenever the water got low. This year the lake completely dried up, presenting an opportunity to explore further.

Villagers began excavating the area by hand, but soon acquired the assistance of a backhoe. After four days, they had unearthed two massive statues which face each other. One stands at fifteen feet long and the other at twelve.

The statues likely date back to the 16th or 17th century, to the post-Vijayanagar period. They seem to be incomplete, as they lack many of the usual details associated with Nandis of that period. They are also facing each other, making it possible that they were to be moved elsewhere once completed. Villagers, however, believe there may be an ancient Siva temple nearby.

Further excavation has been temporarily halted, awaiting state agencies to officially continue the work.
ARGENTINA
A Taste of Indian Culture
ON JULY 14, 2019, THE CELEBRATION of Argentina's 70 years of diplomatic relations with India was expressed in the form of "BACelebra India." This India-centric street fair in Buenos Aires provided residents and tourists with a fun and festive introduction to many parts of Hindu/Indian traditions. It included dancing and ayurvedic cooking, along with over 50 stands flaunting delicious Indian foods, traditional handicrafts, henna tattoos, clothing, books, teas and more.

The whole of Argentina has only 2,030 persons of Indian origin and about 1,300 non-resident Indians. Hinduism accounts for less than one percent of the nation's religious landscape. Many Hindu practices, however, are widespread. In addition to forms of yoga used for health and fitness, these include many beliefs and practices brought by Indian gurus, sought for by seekers and translated from Hindu texts through out the twentieth century.
INDIA
Memorizing the Vedas
THE VEDAS ARE UNQUESTIONABLY one of the world's most astounding and comprehensive works of religious literature. Further, for most of their history they were passed on not through writing, but through perfect oral memorization. In a recent article in the Indian Express, Archana Garodia Gupta and Shruti Garodia provided the following description of how this transmission of knowledge was—and still is—accomplished:

"To preserve the purity of the Vedas, ancient Indians came up with ingenious techniques. In addition to memorizing each mantra the standard way, they would learn the same sentence in many different ways—backwards, forwards, combining two words at a time and so on. There were ten or eleven ways to learn each verse!

"Let us illustrate a few of these ways with a simple five-word phrase like 'The sun is shining today.'

"Vakya patha (sentence recitation): First, students would learn each verse by simple continuous repetition, of words one through five, repeating, 'The sun is shining today, the sun is shining today, the sun is shining today' many times over.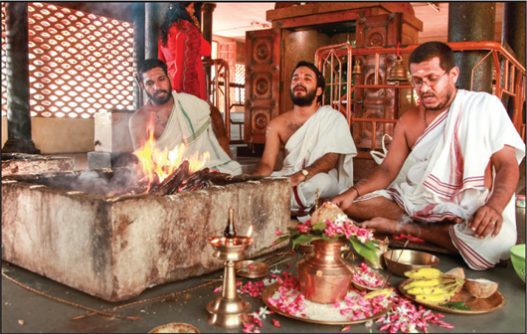 "Pada patha (word recitation): Then they would recite each word of the sentence separately, without any intonation: 'The. Sun. Is. Shining. Today.'

"Krama patha (step recitation): Each word was then repeated twice, being connected to both the word that came before and after it which sounded like, 'the sun, sun is, is shining, shining today.'

"It got even more complicated as the students grew older.

"Jata patha (woven recitation): Two words were first recited in their original order, then repeated in the reverse order, and finally repeated again in the original order. 'The sun, sun the, the sun. Sun is, is sun, sun is. Is shining, shining is, is shining. Shining today, today shining, shining today.'

"There were other even more complex recitation styles such as mala (garland), shikha (peak), dhvaja (flag), rekha (line), danda (stick) and ratha (chariot).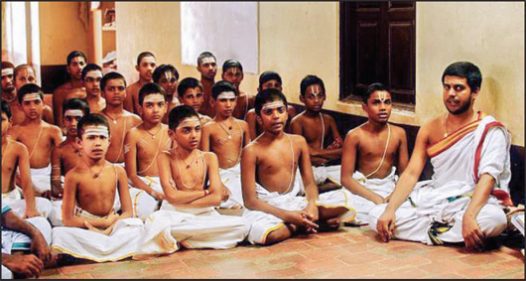 "However, one of the most complicated ways was the Ghana patha. So much so that in the south the name Ghanapatim denoted someone who had mastered the Ghana style of reciting the Vedas; and it would take them almost 13 years of full-time study dedicated to learning to get there!

"Ghana patha (compact recitation): There is an arithmetical system of permutation and combination in the chanting, which would sound something like, 'the sun, sun the, the sun is, is sun the, the sun is. Sun is, is sun, sun is shining, shining is sun, sun is shining, etc.'

"Reciting the entire Rigveda in the Ghanam style, just once, could take up to 450 hours."
Briefly
THIS YEAR CAMBODIAN archaeologists reported their discovery of nearly one hundred ancient Hindu temples in the Kratie province's historical Samphu Borak area along the Mekong River. These are small Hindu temples, of which only the foundations still remain. Archaeologists says they may date back to the sixth or seventh century, making them older than the famed Angkor Wat temple complex, build in the 12th century.
THE UNITED NATIONS DEVELOPMENT Program has released its 2019 Multidimensional Poverty Index highlighting the number of people in 101 countries around the world who are experiencing poverty at regional, nationak and subnational levels. Rather than simply focusing on finances, multidimensional poverty includes other factors such as health, drinking water, electricity, work quality and education. The index found that of these nations, 1.3 billion (23% of their total population) are multi-dimensionally poor, with half of that number under age 18. Some of the countries are successfully tackling poverty, most notably India. The report found that in just over a decade, India lifted 271 million people out of multidimensional poverty.